Tours
Hornillas Tour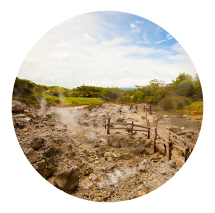 On the Hornillas Tour you will observe the burners of Miravalles Volcano's active crater with volcanic mud pots which temperatures range from 40 degrees to 100 degrees Celsius. You will be able to watch closely the fumaroles, hot stones and crystallized sulfur among other scenic beauties. You can also make use of the mud baths in our outdoor/natural spa as well as 3 thermal pools where you can take advantage of the wealth of properties that these waters of volcanic origin have. We also have a sauna, in this area you will find another 3 extra pools to enjoy a day full of adrenaline.
Waterfalls Tour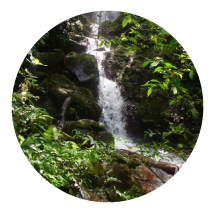 Tour to the Waterfalls and Muco Cabro hill is done with tractor and it includes crossing a 40 meter long hanging bridge with impressive views to the waterfall. It also includes hiking in the primary forest trails where you can see a variety of animals such as birds, reptiles and others.
There are a total of 2 waterfalls to visit.
At Las Hornillas you will find the following:
Bubbling mud pools
The bubbling mud pools are holes that contain clay mud. These mud pools which also have sulfurated thermal waters all with different temperatures: 80ºC, 100ºC and 200ºC. This mud is odorless and can be found in three different colors, gray, brown and yellow. The coloration indicates how deep the pool is: the brown mud indicates a depth of two meters, the gray mud a depth of one meter and the yellow mud indicates the mud is from the surface and is full of sulfur.
You can select the clay in which you want to bathe and then obtain it from the bubbling mud pool. Whilst waiting 15 or 20 minutes for the clay to cool you can enjoy one of the greatest marvels in the world. After bathing in this volcanic mud your skin will be left feeling fresh and smooth.
Bubbling water pools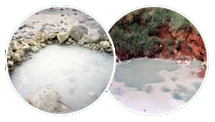 The bubbling water pools are emerald green, 2 meters deep and 100 ºC. The bubbling water pools remain at this temperatures unless it rains. Las Hornillas runs a hose through this water pool to the bathrooms, to warm water for its guests. The water in these pools is from the mountains, there are two different color waters, the water with Iron and the water with sulfur.
Bubbling water pools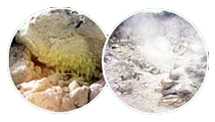 Fumaroles are vents from which volcanic gas escapes into the atmosphere. Fumaroles may occur along tiny cracks or long fissures, in chaotic clusters or fields and on the surfaces of lava flows and thick deposits of pyroclastic flows. They may persist for decades or centuries if they are above a persistent heat source or disappear within weeks to months if they occur a top a fresh volcanic deposit that quickly cools.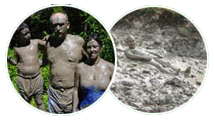 Fumaroles, emit a mixture of steam and other gases and are fed by conduits that pass through the water table before reaching the surface of the ground. Hydrogen sulfide (H2S), one of the typical gases issuing from fumaroles, readily oxidizes to sulfuric acid and native sulfur. This accounts for the intense chemical activity and brightly colored rocks in many thermal areas.
Watch videos of the bubbling mud pots
What you should bring: T-shirt, long pants (for horse riding), walking shoes, bathing suit, towel, sandals, insect repellent, binoculars, camera and hat.
Tour Rates
Reserve your tour now!